About FFW
Born out of an engagement with anti-capitalist, anti-racist feminist struggles as women of color from the Global South, Feminist Freedom Warriors (FFW) is a project about cross-generational histories of feminist activism addressing economic, anti-racist, social justice, and anti-capitalist issues across national borders. These are stories of sister-comrades, many of whom we have worked and struggled with over the years, whose ideas, words, actions, and visions of economic and social justice continue to inspire us to keep on keeping on.  We feel an urgency to tell these individual and connected/collective stories—to "speak what we live" for ourselves and the generations that will follow us.  FFW is a labor of love, dedicated to those who have come before us, and those who will come after.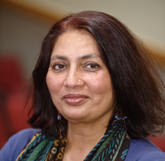 Chandra Talpade Mohanty
is a feminist scholar-activist and educator in the Women's and Gender Studies department at Syracuse University. Chandra's activism, scholarship and teaching focus on transnational feminist theory, anti-capitalist feminist praxis, anti-racist education, and the politics of knowledge.  She is author of Feminism Without Borders: Decolonizing Theory, Practicing Solidarity (2003) and co-editor of five volumes including Third World Women and the Politics of Feminism (1991), Feminist Genealogies, Colonial Legacies, Democratic Futures, (1997), and Feminism and War: Challenging U.S. Imperialism (2008).  Chandra is a steering committee member of the Municipal Services Project (municipalservicesproject.org), a transnational research and advocacy group focused on alternatives to privatization in the Global South, a founding member of the Democratizing Knowledge Collective at Syracuse University, and Coordinating Team member of the Future of Minority Studies Research Project (http://fmsproject.cornell.edu). She is series editor of "Comparative Feminist Studies" (Palgrave/Macmillan) and was a member of the Indigenous and Women of Color Solidarity delegation to Palestine in June 2011. Chandra has co-edited Feminist Freedom Warriors (Haymarket Books, 2018) with Linda Carty. 
---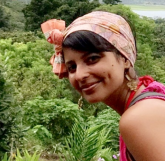 Taveeshi Singh is a graduate student in the social science program and the department of women's and gender studies at Syracuse University. Taveeshi's early training was in psychology and photography. Drawing on these experiences, she has done research, policy advocacy and visual media work with nonprofit organizations dedicated to health, education, and food security concerns of marginalized rural and urban communities in India. Taveeshi's doctoral work focuses on intersections of gender, caste, and state. She is inspired by feminist genealogies, feminist pedagogies, and visual methods. Taveeshi is co-editor and production manager of the Feminist Freedom Warriors project.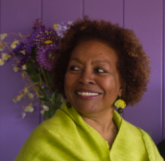 Linda E. Carty is a Black feminist scholar-activist and educator in the African American Studies Department at Syracuse University. Linda's activist, research, scholarship and teaching spans Black women's labor struggles, migration and sexuality in Canada, the Caribbean and the U.S. She is author of "A Genealogy of Marxist Feminism in Canada," (2014); "Not a Nanny: A Gendered, Transnational Analysis of Caribbean Domestic Workers in New York City" (2003) and "The Discourse of Empire and the Social Construction of Gender" (2002). Linda is editor of the anthology And Still We Rise: Feminist Mobilization in Contemporary Canada (1993). She is co-author/contributor to We're Rooted Here: Essays in African Canadian Women's History (1994) and Unsettling Relations: The University as a Site of Feminist Struggles (1991). Linda has co-authored "Solidarity Work in Transnational Feminism: The Question of Class and Location," with Monisha Das Gupta (2009) and Mapping Transnational Feminist Engagements: Neoliberalism and the Politics of Solidarity (2014) with Chandra Talpade Mohanty. She has also published many activist writings, the most recent being, "Will the State Ever Acknowledge Domestic Violence in St Kitts-Nevis as Needing its Attention?" (2018). She works with UNAIDS-Caribbean, has been a member of The Black Women's Collective, Toronto; Caribbean Women's Health Association – Immigrant Services, New York City and is a founding member of the Democratizing Knowledge Collective (http://democratizingknowledge.syr.edu) at SU.
---
Kim E. Powell is a graduate of Syracuse University's Visual and Performing Arts and has a Certificate of Advanced Studies from the Department of Women's and Gender Studies at SU. Kim provided creative and technical assistance to the FFW team from 2014-16.
Jingyi Wang has a MA in Television, Radio and Film from the S.I. Newhouse School of Public Communications at Syracuse University. Jingyi provided creative and technical assistance to the FFW team from 2016-2017.
Breanna Dickson has a BA in Sociology from the Maxwell School of Citizenship and Public Affairs at Syracuse University. Breanna provided creative and technical assistance to the FFW team from 2016-2017.
Marlon Walcott has been a vanguard of online solutions for over 12 years and has developed open-source online solutions at the highest level for NGOs, government, private and public sector organizations. Marlon has provided creative and technical assistance to the FFW team since 2015.